Automated high-bay storage system
Galderma Spirig, CH-Egerkingen
Galderma Spirig is a Swiss company based in CH-Egerkingen. The 300-strong workforce is engaged in all aspects of high-quality dermatological and generic products, from development through production to marketing and sales.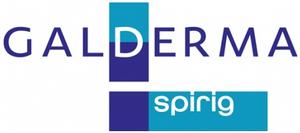 Requirements
By expanding the order packing system and the warehouse at its premises, this successful pharmaceutical company is aiming to create the necessary framework for continued growth in the years ahead. It represents the largest building project in the company's history with a capital expenditure of 18 million Swiss francs.
The new, automated high bay storage system will be used for inbound and outbound storage of finished products and secondary packaging materials.
Logistics solution
Gilgen Logistics was appointed to supply the self storage and retrieval equipment, including the conveyor system for pallets, control and warehouse management systems. Room to accommodate seven packaging lines is being created, plus space for a further 2'400 pallet storage. At the same time, the goods inwards and outwards area, the order picking and the order packing inbound / outbound system were redesigned. Should the need arise, the high-bay warehouse is capable of further expansion.
The project amounts to some 38'000 m3 of enclosed space with a total floor area of 6'300 m2. The expansion on the western side of the existing company building provides optimum operating and production procedures in conjunction with the existing facilities.
By taking advantage of this opportunity to expand its high-bay warehouse, Galderma Spirig, a modern and successful company, is free to concentrate on the development, production and marketing of innovative medicines and high-quality dermocosmetic products.