Conveying systems for trays ans pallets
Steffen-Ris AG, CH-Bätterkinden
Your fruits and vegetables partner in Switzerland. Steffen-RIS AG is the specialist for the storage, processing and packaging of fruit, bananas, carrots, onions and potatoes. Other competencies include logistics services (transport, storage, picking).

Anforderungen
A project in Bätterkinden that goes by the name of "fresh & cool" includes an extension of gross floor area from previously 16,000 m² to over 24,000 m². The investment volume of some 35 million CHF includes the new construction of a warehouse in compliance with the Minergie standard for a total of 8,000 tonnes of potatoes and carrots as well as expansion of the shipping infrastructure to 2,000 m².
Lastly, the production area is also being expanded by 3,000 m². Ren-ovation of the operating equipment includes an additional processing and packing station with electronic sorting by quality for potatoes as well as a state-of-the-art carrot processing line.
Logistiklösung
Gilgen Logistics AG was contracted to supply the conveying systems. This includes the conveying technology for trays and pallets, for the staging of goods and for rapid availability of empty trays at the packing location; increasing performance when filling in the trays, and a rapid discharge and palletizing of the trays, taking into account ergonomic workplace facilities. 2 types of IFCO folding crates and containers of the Migros are used.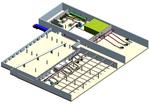 Production / Trading / Service providers
Weitere Referenzen