Digitalization
Digitalization Meets Automation
As part of Industry 4.0, Gilgen Logistics AG is increasingly relying on digitization along with augmented reality for the intralogistics systems it has developed in-house. Our first projects have already been successfully implemented. Further digitization steps are to follow.
Gilgen Logistics AG has been at the cutting edge of intralogistics systems for 60 years. Now we are moving into the next big step of development. Because digitization does not stop at our high-bay storage facilities and the logistics systems connected to them. "In an Industry 4.0 approach, the goal is for our systems to become an important part of our customers' value chain. In this manner, all of our conveyor systems will be digitally supported in the future, further advancing automation," said Daniel Gilgen, division head of Systems and deputy CEO.
It has been several years since Gilgen Logistics AG began to examine and develop the opportunities for digitization in its intralogistics systems. Every step in the overall process is intended to not only add something to the digitization process, but ultimately also to make for benefits. Augmented reality then also makes this digitization visible and can assist with work in a wide variety of ways. This is much more than just a gimmick. "Information and communication technology is today already providing a great many opportunities that we are currently not yet exploiting in our systems. We want to change that," said Daniel Gilgen.
Virtual walks through facilities

Daniel Fricker, who is responsible for the Engineering Mechanics Department and development, is working with his team to implement the next major step in digitizing our intralogistics systems. The first subprojects to reach this goal have already been realized. Gilgen Logistics AG has, for instance, already opted for augmented reality in its sales process. "Augmented reality allows us to present to potential customers the facilities they want, with their full configurations, using 3D to walk them through the facility directly on site. This technology also makes it possible to project expansions directly into an existing facility, allowing customers to visualize them better," Fricker explained.
Press reports (in german)


Digitized down to every single screw
Augmented reality visualization makes digitization visible. "For this to be possible in the first place, all the individual elements have to be accurately captured in the system," Daniel Fricker further explained. At Gilgen Logistics, the data would be prepared only once and then passed on throughout the entire process, worked with, supplemented and augmented with further data and parameters step by step, as is done in modular systems. At the end of this process, the customer's unique installation will have been digitally recorded down to each individual screw. This creates a completely customized digital installation.

Support for maintenance and repairs
Each individual element installed in these is then provided with a unique QR code during pre-assembly. All the data for that element can be retrieved from a database in the cloud. "This means that our fitters, PLC programmers and service technicians on site, as well as customers, of course, can access all relevant information very easily using their smartphone or tablet," explained Fricker. The QR code is created according to the standards of GS1 Switzerland. Among other things, this has the crucial advantage that if a link in one's own system changes, the QR code will continue to work.
"In addition, an augmented reality platform with an app is provided to guide on-site service technicians during maintenance and repairs with additional information and animated step-by-step instructions directly at the facility." For more complex maintenance and repair work, service technicians can be assisted by specialists at Gilgen Logistics AG's headquarters in Oberwangen with the help of augmented reality and voice over IP technology. This saves important time and money by eliminating potentially long travel times. If AR glasses are used instead of a smartphone, the technician even has both hands free to work.
First digital installation in operation
What last year was still described as a pilot project is now the first installation at a customer's facility already in operation. The customer has direct access to all information, such as spare part numbers, and can order directly without having to search through long lists. Along with the instructions, this increases safety in dealing with the facility, reduces errors and is a just-in-time transfer of know-how. At the same time, processes at Gilgen Logistics are also accelerated and simplified. As an example, where previously hundreds of pages of paper were used for parts lists in assembly production, now almost all this work is to be done digitally.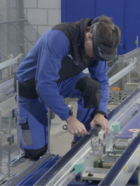 Projects already implemented have shown that digitization has great potential in intralogistics. The needs of manufacturers and customers can both be satisfied at the same time, resulting in a win-win situation. "Our visions regarding digitization are manifold, and we continue to invest heavily in this area to explore further opportunities step by step and bring them to market," was the outlook Daniel Gilgen gave on where Gilgen Logistics' (digital) path is headed.