MIGROS OSTSCHWEIZ | PALLET BUFFERING SYSTEM
Migros Ostschweiz is the largest, in terms of area, of Switzerland's ten cooperative territories. This requires outstandingly well-structured logistics for store deliveries and returns. In addition to transports by rail, Migros Ostschweiz also maintains a modern fleet of trucks. Its approximately 80 vehicles include three biogas-powered trucks and two hydrogen-powered ones. Using them, nearly 61,000 tours are made annually to transport 2.7 million pallets.
RETURNS AND RECYCLING LOGISTICS
What consumers often do not see is the logistics involved in returns. At a recycling rate of a high 80%, vast quantities of materials such as PET, films, plastics and cardboard are collected. In 2021, for example, 1,604 tons of PET were returned from Migros Ostschweiz stores. This amounts to around 40 million PET bottles. In addition to recycling, empty containers (such as those used for yogurt and vegetables) are returned to the main facility in Gossau, where they are re-sorted, washed and made ready for reuse.
INTERMEDIATE BUFFERS AS A SOLUTION
Return deliveries of these containers are carried out on a very irregular basis, depending on how the trucks arrive. This can result in high volumes that all need to be processed at the same time. However, since the further process is automated, these varying frequencies of movement have to be compensated for. This is ensured by a new buffering storage unit for 477 pallet spaces. It allows returned pallets holding containers to be directly fed in from the truck ramps at three loading points. Three goods lifts and two transfer carriages place the pallets in the intermediate storage unit mentioned above. As soon as sufficient capacity is available for further processing, the pallets are automatically removed from the buffer and transported further. Gilgen Logistics was contracted to develop and install this project.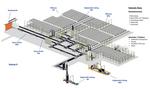 Container pallets used to be stored manually in the same area as recycled materials. In order to obtain more space for manoeuvring on the one hand and to make optimum use of the room height on the other, an intermediate level was built into the high logistics hall. The special challenge was that the conversion work was carried out during ongoing operations. First, the existing conveyor line was mounted to the ceiling, the new floor was put in, and then both the old and the new equipment were placed on top. Due to the corona situation, even more goods than usual were handled during that period, which added to the complexity for the installation.