Tray conveying system androll container conveying system
University Hospital, CH-Basel
The University Hospital Basel is a city, regional and university clinic, ranking among the five largest healthcare centers in Switzerland.

Requirements
The facilities, built between 1978 and 2003, needed to be modernized in order to reduce the ever-rising maintenance costs. A number of new links to other buildings were to be carried out, various modernisations and refurbishment phases from 1992 to 2019 will take place.
Logistics solution
Logistics solution for trays:
The various buildings in the University Hospital Basel are connected by an underground network of more than 4 kilometres of passages with transport systems for the movement of goods. The transport is effected by means of vertical conveyors (lifts / paternoster / elevators) and horizontal conveyor systems.
The light-duty transport system for the movement of goods of up to 50 kg (mail, medical records, pharmaceuticals, laundry, laboratory services, etc.) was expanded and the control system modernised. This permits the tracking of all tray movements to be carried out by RFID transponders.
Logistics solution for roll Containers:
The medium-duty transport system conveys roll containers with meals, pharmaceutical products, supplies, laundry, warehouse products or rubbish between the various destinations.
Goods are moved gently via horizontal roll conveyors, turntables and transfer units as well as vertical lifts.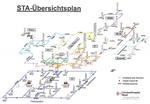 Hospitals / Laboratories
More References